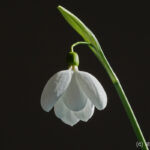 Red-Snowdrop
Project of Staudenfan nursery, located in Germany
About
This site is about all the Snowdrops (Galanthus) which we are cultivating at our plant nursery "Staudenfan", located in Germany. Since the online shop staudenfan.de is in German language and only the plants for sale are online there, we want to display on red-snowdrop.info our full Galanthus collection.
Galanthus-cultivars, which have developed well and are regularly for sale, have the tag "Available". Snowdrops, which we might sell in the next years, have the tag "Pipeline".
This site is for all the Glanthophiles out there and is for information & pleasure only. Please enjoy our snowdrop images. By the way: There isn't a red Snowdrop.